POWERFUL MOBILITY
The RealCADENCE™ App supports an intelligent interface that drives actions and menus to the user based on qualifications. Our app is designed to be used by Millennials as well as Baby Boomers with little or no training.
Our App utilizes visuals, video's, instructions, attachments, inputs as well as the freedom for a user to send and receive communications providing additional data and unlimited images.
Problems are realized and sent immediately to a managers mobile device as well as the RealCADENCE™ workflow messaging inbox which decreases the need for separate email and text applications.
POWERFUL ANALYTICS
The RealCADENCE™ Supports Location based assignments based on qualification as well as individual task management through our assignment features. Users as well as field managers will always know What When and Where.
Our App has been designed to help an organizations focus on their PEOPLE, their PROCESS, and therefore improve their PRODUCT.
Your PEOPLE will always know your companies PROCESS through our intuitive Action Menu which shows them what they need to do today. The Problem Report Menu shows actions your PEOPLE can take by the organization categorizing problems which turn into trends for management so organizations can balance resolve and set individual item SLA's. The Action on Demand Menu allow managers to assign actions to locations remotely or allow an individual to assign a set of actions for additional reporting.
Finally your PRODUCT improves as our analytic engine provides real-time feed back to the user showing them how they are improving in the PROCESS.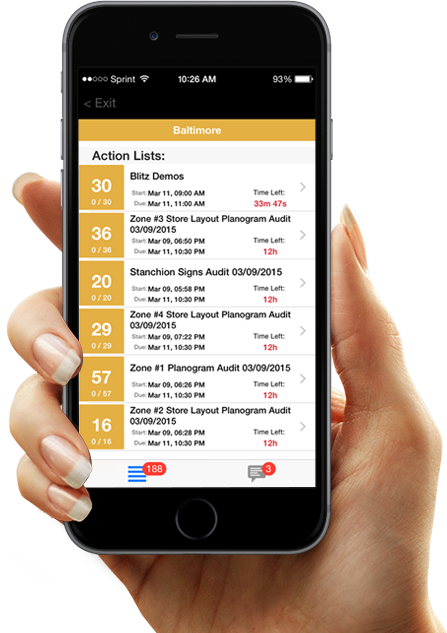 POWERFUL INFORMATION
The RealCADENCE™ App puts information into the hand of Location, Field, District, or Regional Managers so they can see and communicate everything from anywhere. Users know what to do as the App provides a balance of time management through timers and escalations. Agendas and Calendars are delivered through the RealCADENCE™ App to keep all of your locations in step. Push notifications, Text alerts, Web notification and email notifications through our enterprise subscription management module enhance escalation.
Each department within your organization can utilize RealCADENCE™ to deliver important information and measure how the information is being used in real-time.
RealCADENCE™ delivers information at the speed of light so your organization can do more with less.